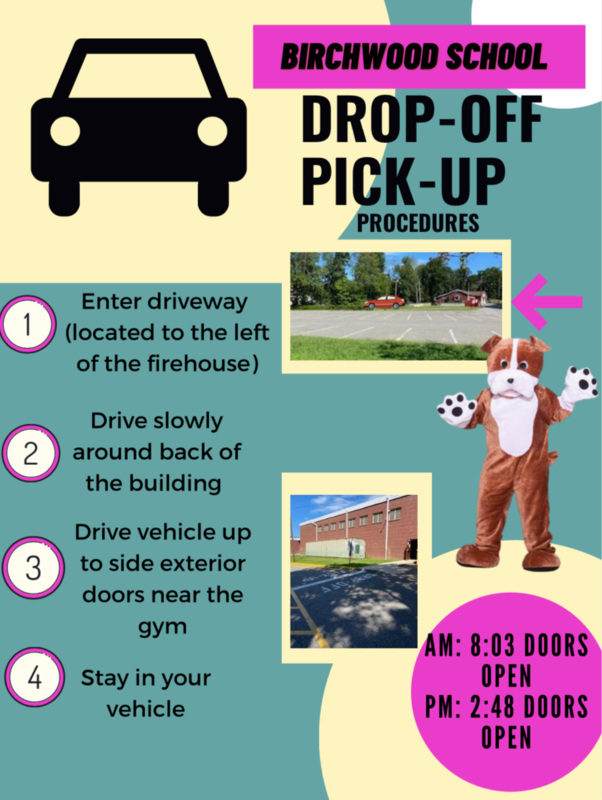 DROP-OFF AND PICK-UP PROCEDURES
Parent Drop Off in A.M.
Enter the pick-up lane alongside the firehouse side of the building
Continue to the ramp area alongside the gym
Drop off and exit the lane, making a RIGHT turn only
AT NO TIME SHOULD A PARENT LEAVE HIS/HER CAR. IF NECESSARY TO DO SO, PLEASE UTILIZE THE PARKING AVAILABLE IN THE FRONT, SIDE OF THE SCHOOL
ONLY BUSES WILL BE ALLOWED TO ENTER THE FRONT CIRCLE
All children arriving after 8:18: Parent must park in lot and sign student in at main office. THERE ARE NO CARS ALLOWED IN THE BUS CIRCLE AT ANY TIME.
As in the past, no parent will be invited to pick up a child between 2:30 and 3:00 except in the circumstance of an appointment (with a note sent in from parent). The academic program is compromised when students regularly leave earlier than the end of the school day
All Walkers are required to use the front double doors by the gym when exiting the building
Parent Pick-up at end of day:
Enter pick up route from the firehouse side of the school – now designated as one way
Continue the queuing line to the ramp alongside the gym door
Students will be called to the gym at 2:48 and will be waiting for parents to begin the orderly process of quickly picking up and exiting the queuing line
Pick up process will allow for 2-3 cars to be loaded at one time. AT NO TIME SHOULD ANY CHILD BE ASKED TO LEAVE THE WAITING AREA. AT NO TIME SHOULD A PARENT LEAVE HIS/HER CAR TO COME TO THE WAITING AREA.
Any parent who is at the front of the queuing line, whose child is delayed in exiting the building will be asked to wait in the "Parent Pick Up Waiting Area", as designated by signage
At the end of the driveway, ONLY A RIGHT TURN MAY BE MADE
As always, a note identifying a change in dismissal (bus taker being picked up) is necessary.
These measures have been established to secure the safety of all children. Thank you for your cooperation.